langwidere
It transpires that I was somewhat busy this week, so no
Sherlock
for you. (Also I lost my
Sherlock
links; I'm pretty sure they're around here someplace, though, cough.) Next week!
Instead, I submit to you these articles of wank, which I've been saving for Valentine's Season: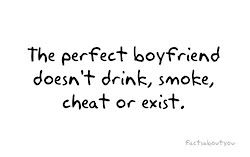 1.
Ew
. I am not judging the book, which looks just as stupid and boring as every other book on this topic — but, I am a little worried about the ad copy, which seems to think that I am romantically desperate, fourteen, and possessed of a very short attention span.
2.
Double ew
. I am choosing to believe that this one is guerilla satire.
So remember, girls: Stay away from obscenely over-processed, prepackaged junk food/poison and try to maintain a strong, healthy, and athletic physique so that you will be appealing to "boys." (What "boys"? Where are these "boys"? Who are they? Presumably they are Morris Chestnut and
Thelma & Louise
Brad Pitt.) Because on the fucking internet it's 1954, and the greatest psychological wound a woman could ever receive is failing to be regarded by strangers as a sex symbol. I know that these people are probably teenagers or in their very early twenties, and therefore biologically obligated to be retarded, but I am kind of offended that their obvious and twatty desire to be fap-objects is being treated as though it is an up-with-diversity, feminist grievance. Ugh. UGH.
Also I am not completely sure that any little girl would ever independently decide that she had to look like Barbie, who resembles a barrel-chested, tanned praying mantis, in order to be loved. Nor am I convinced that little boys find Barbies sexually attractive, yuck. I think that, left to their own devices, most little kids would just want to chew on Barbie's rubbery feet. That's what I remember doing with Barbie, most of the time.
And you aren't allowed to be upset when your nicotine-inflected, drunk boyfriend cheats on you anymore? Really? Like, really? Because that's going to be #16 on my 'Why Couldn't You Make Me A Lesbian Like I Wanted, God? You Couldn't Just Do That One Thing, Could You?' list.
My links are pretty weak-assed, too:
1. A Wonkette
Reagan Beans thing
. I know, but the comments are pretty funny.
2. An
inspiring D.L. Hughley quote
, via constantly-hysterical, horny, semi-literate Australian drama queen Yimmy Yayo (he does post some great landscape/historical/animal photos, though).
3. A deeply pathetic
NYT
article about the "bias" that exists against "conservatives"
in the humanities. HAHAHAHAHA.
I'll do better next time, coach!